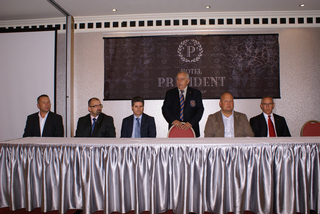 International Order of Knights of Security is registered already in Florida as a Non-Profit incorporation – for awarding national and international level and education.
The Awarding Body will decide who can be awarded with any of the Decorations of "Order of Security".

The following people are proposed members of the Committee:

The Board of OoS: (the board will approve the proposals for awards)

President:

Prof. George POPPER – president of IBSSA and Executive Grand Chancellor of the Order of Cyprus

Members:

Gen. Antal KOLLÁR – coordinator and general secretary
Mr. Tamás TÖRÖK – coordinator in the USA

Mr. Imtiaz ABDULLA – South Africa
Dr. Robert BODOR – Slovakia – Europolice Federation
Mr. John BOKOTEY – Ukraine
Dott. Andrea BOVE – Italy
Dr. Henrik BRANDT – Scandinavia
Dr. Constantin BUZATU – Romania
Dr. Ronan CHATELLIER – France
Mr. Stephen CHEE – Singapore
Prince José COSMELLI – Portugal – Grand Master of KMFAP
Mr. Karl DELAGUERRA – USA
Gen. Zoltán DÖMÖTÖR – Hungary – President of National Guard
Dr. István FARKAS – South-East Asia
Dr. István FODROS – Sao Tome and Principe – Teacher of the Police Academy
Mr. Dmitry FONAREFF – Russia – President of the Russian Bodyguard Association
Dr. Zoltán HOSSÓ – IAPA president
Dr. Branislav JOVCHEVSKI – Macedonia
H.E. Tadeusz KACZOR – Poland – Grand Master of the International Order of St George the Martyr
Prof. Vladislav KIRILOVSKIY – Latvia
Prof. Rony KLUGER – Israel
Dr. Marko NICOVIC – Serbia – President of WKC and representative of Police Chiefs Federation
Dr. Dragan NIKOLIC – Montenegro
Dr. Tamás PAUKERT – President of the Gyula Org. of IPA Hungary
Mr. Tony SCHIENA – USA
Mr. Samuel STAFFORD – Trinidad and Tobago
Mr. Eddie STONE – Scotland/UK
Dr. Bogdan VUKOSAVLJEVIC – Slovenia
Dr. Fritz WENDLAND – Germany
Mr. Krisztian ZERKOWITZ – Belgium

Dr. Miki VARGA – USA – Official Notary
Mr. Adam POPPER – Secretary – Webmaster


After there will be some people already awarded, they will be automatically members of the International Order of Knights of Security.